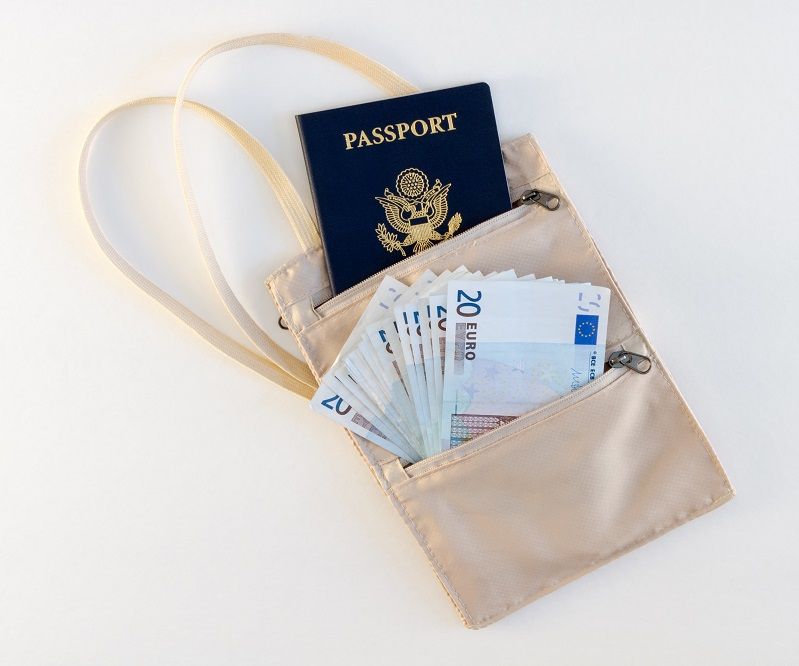 Venture 4th Travel Neck Pouch Wallet with RFID Blocking Review
There is barely a day goes by without some headline appearing in the press or TV news about cybercrime or scammers stealing people's data. The problem is that many criminals have more access to technology than the rest of us, so when it comes to RFID chips used in credit cards and passports, they already have the means to steal what's on them.
The good news is that you do not have to be one of their victims if you have your cards and passports secured in something which has RFID blocking technology, the very technology used in the Venture 4th Travel Neck Pouch Wallet.
Venture 4th Travel Neck Pouch Wallet with RFID Blocking
Venture 4th is a company that produces lots of travel accessories including luggage padlocks, travel towels, backpacks and even sleeping bags, and while they are all relatively 'tech-free' their range of RFID blocking wallets and pouches isn't; they use the latest in RFID blocking technology to produce a range of wallets, pouches and passport holders.
This specific product has proven to be hugely popular with a staggering number of positive reviews. In online reviews, it has a 95% positive review rate which is often the case for items which do not sell many units, but considering that over 2,000 customers have already reviewed this wallet since it was first released in 2016, to achieve 95% is highly impressive.
Although classed as a wallet it would be more apt to call it a pouch given its size and shape. Being a pouch, it is bigger than standard wallets, so it can carry more, and can also accommodate additional items such as keys and smartphones.
Who is this product for?
Anyone who has concerns that their personal data might be at risk from techie pickpockets is going to be an obvious choice for whom this product would be suitable for. That includes those who carry their bank and credit cards with them every day, and also those who may be traveling and are thus carrying their passport.
If you like to travel light, this is also going to appeal to you. It is large enough to hold those essential items such as house keys, a cellphone, a pen, and loose change, so it should mean you don't have to take a handbag or backpack with you too.
What's included?
While it may be designed with the latest RFID blocking technology, it is a very simple product that requires no setup and is ready to use as soon as you take it out of its packaging.
Overview of features
This pouch wallet is made from a water-resistant fabric which is also very durable, so even in the hustle and bustle of traveling, everything inside should be safe. That includes being safe from physical damage, and from thieves who have their eyes, or more accurately their scanners, on your cards and passport. They're going to be disappointed because the RFID blocking material woven into the pouch will curtail any chances they have of accessing your personal data.
It has three separate compartments which can hold anything up to around 8 inches in length, so keys, a small notebook or diary, your cellphone, and small change can all be accommodated. The side pockets can be used to hold your credit or debit cards. To save time in scenarios where you may have to show your ID, there is a clear window compartment where you can place it for easy display.
Wearing the pouch around your neck keeps everything within easy access, and you can adjust the neck strap so that the pouch sits at the most convenient height for you. Finally, for those who like everything to be coordinated, you can choose from 6 different colors.
How to use it
The pouch has three openings and a clear plastic window into which you can place an ID card for access to your office building, for example. The biggest opening is at the top and it's secured using a Velcro strip. Using this, you can place larger items into the pouch such as a cellphone, and more importantly your passport.
The two side openings are zippered, and these are more appropriate for credit cards, debit cards and any other type of card. Please note you must remember to close the side zips as there is a danger that cards a could fall out and be lost if the zips are left open
When all your items are inside and the pouch is closed it can be worn over your shoulder, but for security, it is best placed around your neck, so it is hanging down in front of you. To make it as comfortable as possible you should adjust the neck strap using the adjustable toggle.
Pros
Made from light, waterproof material
Adjustable neck strap
Multiple pockets
Clear ID window
Can be used to carry keys, cellphone, etc.
Cons
Neck strap can tug open top flap
Cards can fall out if side zips not closed.
Alternative
If you would prefer the zipped sections of your pouch to be horizontal, rather than vertical, then a great alternative to the Venture 4th pouch, is the 42 Travel Premium RFID Blocking Neck Wallet and Passport Holder.
It has RFID blocking material throughout, zipped slots for credit cards, and a passport holder. It has a removable neck strap, so you have a choice as to how you carry it, with the options to hang it around your neck, tuck it inside your clothing or carry it in another bag. You also get a free waterproof smartphone holder as a bonus when you buy it.
Conclusion
Being able to carry all your personal items with you in one pouch, plus knowing that the ones prone to data theft are safe, are the main assets of the Venture 4th RFID Blocking Travel Neck Pouch Wallet. It is obvious that it does both of these very well, given how many happy customers it has created, and we're sure you will join that list should you purchase it.