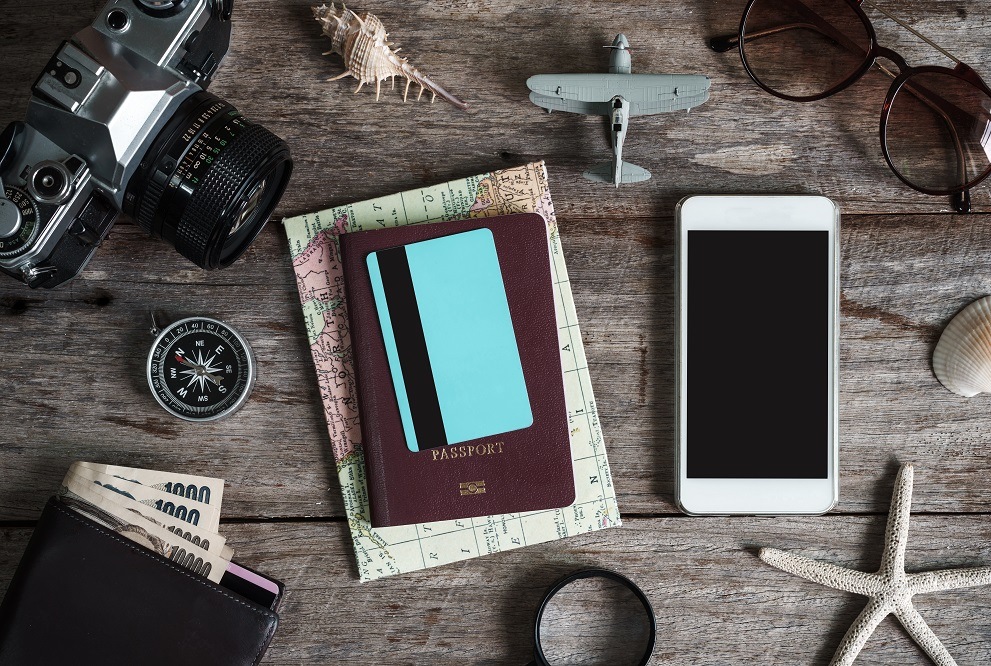 Defway RFID Blocking Wallet and Passport Holder Review
If you have already decided that you want to protect your bank cards and your passport from unscrupulous crooks with scanners, then you will know that you need a wallet or passport holder which incorporates RFID blocking. The question is then 'Do you buy a separate wallet and passport holder or a combo which can hold both?'
The advantage of using a combo wallet is it means one less item to carry, plus if you can find one that can accommodate your smartphone too, then even better. Well, you do not have to find one, because we've done it for you, with the Defway RFID Blocking Wallet and Passport Holder.
Defway RFID Blocking Wallet and Passport Holder
This RFID blocking wallet and passport holder is fairly new to the market, having only been on sale from the fall of 2018. It comes from Defway which is a brand owned by a very large Chinese manufacturing company based in Guangzhou which produce a range of low cost, high-quality goods in many niches including pet supplies, cellphone accessories, clothing, and outdoor goods.
This particular product is one of several wallets, bags, organizers, and storage sets that they produce, with the emphasis being on the products being simple, stylish and practical. It has been tested in a laboratory to confirm its effectiveness at blocking RFID scanners and is available in a choice of six colors: black, grey, peach, blue, light blue and army green.
Who is this product for?
We should start by looking at the capacity of this RFID wallet because that is going to appeal to a lot of people, especially those who want to keep the number of bags they carry to a minimum. This can be used to carry cards, coins, banknotes, a pen, a passport, and a cellphone, so it effectively makes any other handbag, purse or wallet redundant.
There are also those who have the security of their personal data as a high priority and thus this RFID blocking wallet appeal to them. With the RFID chips in your credit cards, your passport, or both, secured from would-be data thieves trying to scan them, you can rest assured that you won't become a victim of data theft.
What's included?
These are the simplest of products so you should not expect to find a myriad of items when you open the packaging. Instead, you will find two. The first is the RFID blocking wallet itself, and there will also be the removable carry strap.
Overview of features
A lot of RFID wallets and passport holders are made from leather, but in this product, you have lightweight, but durable, nylon material, which is also waterproof, so anything being spilt on it will not affect the items inside. There is RFID blocking material within the wallet, and this has been tested in laboratory conditions to ensure it works.
The capacity of this wallet is impressive because whereas most passport holders can only accommodate one passport, this one can hold two. This means you can keep your partner 's or traveling companion's passport safe from scanners too.
Apart from the passports, there is enough room in the wallet for four credit cards, money, bills, receipts, and other small documents, plus there's a zipped compartment where you can keep coins.
If all that wasn't enough, on the outside there is a handy slot which is big enough to hold a cellphone, meaning all your personal items are safely and conveniently stored in the wallet.
How to use it
The main way to get the most from your RFID blocking wallet and passport holder is to have the items you carry in it properly organized. In this way, you maximize the storage capacity.
When you open the wallet using the zipper, on the left-hand section you will see two large slots. These are for passports, and as we mentioned in the previous section, being able to protect two passports is not possible in many RFID blocking passport holders. Obviously, if you do not carry your passport with you, then these slots can be used for folding money bills, tickets, receipts, and other small documents.
On the right-hand side is where you store your debit and credit cards, and you have the capacity to store four of these, which for most people should be enough. There is an additional compartment which is zipped so you might find this handy for coins, although some people use this to store the earphones for their smartphone.
The final internal compartment is vertical and large enough for paper money, although it is also a great place to store a pen. Finally, if you wish to store your cellphone in this wallet, you can do so by placing it in the slot on the outside of the wallet.
Pros
Lots of slots and compartments
Can store a cellphone
Made from waterproof material
Extremely lightweight
Choice of six colors
Cons
Non-returnable
No strap to hand around the neck
Alternative
If you have no need for your RFID blocking wallet to be able to carry your cellphone, as in the case of the Defway model, an excellent alternative is the Zero Grid RFID Blocking Passport Wallet.
This wallet is extremely compact with its longest side being over 3 inches shorter than the Defway wallet, and it weighs half of what it does too. This makes it very easy to fit into a small handbag or in a trouser pocket. Despite its diminutive dimensions, it has an impressive capacity, capable of holding a passport and up to 8 credit cards.
It's made from durable nylon, has embedded RFID blocking materials, and it also comes with a free micro pen included too.
Conclusion
If you like having all your personal items in one place, and at the same time, to know everything is safe and secure, the Defway RFID Blocking Wallet and Passport Holder is the ideal solution. It has the capacity to hold four cards, two passports and a cellphone, and its lab-tested RFID blocking feature will ensure your personal data is safe from RFID pickpockets.