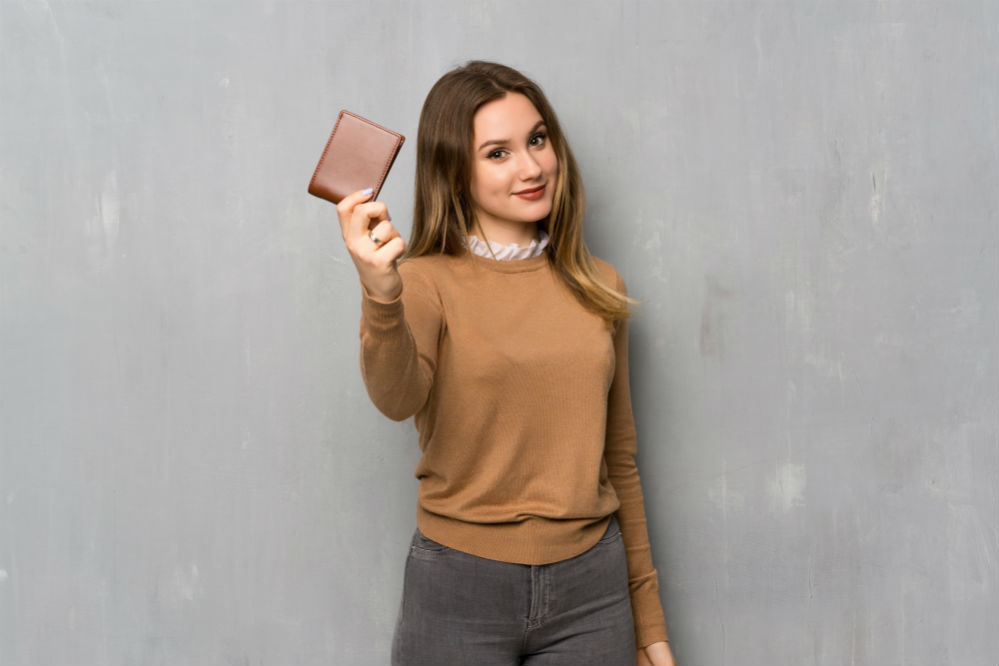 Kalmore Women's Leather RFID Credit Card Wallet Review
Being able to protect credit and debit cards from the thieves who will try to get your personal data from them using a scanner, is now possible for everyone, thanks to the use of RFID blocking wallets. These block the scans from accessing the chip on your cards.
Most wallets tend to be fairly mundane in terms of their styling, and many of them seem targeted towards male customers, as evidenced by the bland and dark coloring they have. These are features you won't see in a Kalmore Women's Leather RFID Credit Card Wallet, which is the perfect size to fit in a handbag with a stunning choice of colors.
Kalmore Women's Leather RFID Credit Card Wallet Review
It is not many products which are sold online that can claim to have almost 90% positive reviews after having been on sale for almost three years, but that is exactly what the Kalmore Women's Leather RFID Credit Card Wallet has achieved.
It has a very simple design and looks just like any other small purse or card wallet. Its dimensions are 4 inches x 3 inches x 1.5 inches so it is not the biggest card wallet around, but when you look inside, you will see that this can actually hold more cards than many larger credit card wallets are capable of.
It comes in a range of bright colors that include orange, pink, light blue and purple, although among the 11 choices there is also the standard black option.
Who is this product for?
With the word 'women' included in the title of this product, and the fact that there are several bright colors to choose from, it's clear that Kalmore is targeting women with this product. It opens like a small purse and its small size means it will easily fit into a larger purse, clasp bag or handbag.
Having said that, there are undoubtedly many men who would find this credit card wallet useful, and with black or blue being color options there are bound to be male customers who find this wallet very appealing.
Regardless of their gender, one thing that will unite males and females is the desire to protect their credit cards from scam merchants who want to access their data, so this wallet is going to appeal to all of them, thanks to its RFID blocking capabilities.
What's included?
When it comes to RFID blocking credit card holders and wallets, they are one of the simplest products you are likely to buy in the sense that when you receive it, that is all there is going to be inside the packaging.
Overview of features
The first feature to point out is the most obvious one, and that is the 100% premium leather that has been used to make this RFID blocking credit card wallet. It provides a high degree of durability while at the same time making it look good too, not least because of the texturing. You also have a choice of eleven different colors so you can pick your favorite.
The wallet has two zippers which you can either open separately or together depending on what you need access to. The side which is designed for your credit cards can hold up to fourteen cards so there should be no issue in terms of being able to protect all your cards, especially if you have quite a few different ones.
On the other side of the wallet, there is a further card slot which is most useful for holding folded paper cash. This compartment is also big enough to hold some coins, which are always handy to have.
Obviously, the most significant feature is the RFID blocking, which is built into the wallet. This will stop any illegal scanning of your cards and thus the theft of your personal data the chips in them contain.
How to use it
The Kalmore Women's Leather RFID Credit Card Wallet has two zippers which allow you to open and close the two halves of the wallet independently of each other. When you open one side you will see the slots for your debit and credit cards, and there are no fewer than fourteen of them.
Assuming you do not have fifteen or more credit cards, once you have placed your cards in the slots, you can then use the additional slots for ID cards, security pass cards, a driver's license and any other small thin cards or documents that you might want to carry with you.
On the other side of the wallet there is a single slot which is more suitable for paper cash. This side will easily hold some coins too. Just remember that to close the wallet, both the zippers must be pulled all the way back round again.
Pros
Small and compact
Large capacity of 14 credit cards
Can hold folded money and coins
Made from premium leather
Choice of 11 colors
Cons
Zippers may stick occasionally
Leather may scratch due to keys etc.
Alternative
If there is one thing which the Kalmore Women's Leather RFID Credit Card Wallet lacks, it is a clear paneled compartment which you could use to display an ID card. if this is something which you see as an issue, a great alternative is the Leopardd RFID Blocking Leather Wallet for Women.
This has 10 slots for credit cards, 2 money pockets, a coin pocket, and everything zips closed to make it a very compact wallet that will fit in a pocket or handbag. Best of all, on the outside, there is an ID window, so you never have to open your wallet to show it.
Conclusion
The Kalmore Women's Leather RFID Credit Card Wallet is a small and compact wallet which is the ideal size for pockets or small bags. It also has plenty of compartments for credit cards and cash, comes in a variety of colors, and most importantly it is highly effective at blocking RFID scanners used by thieves.