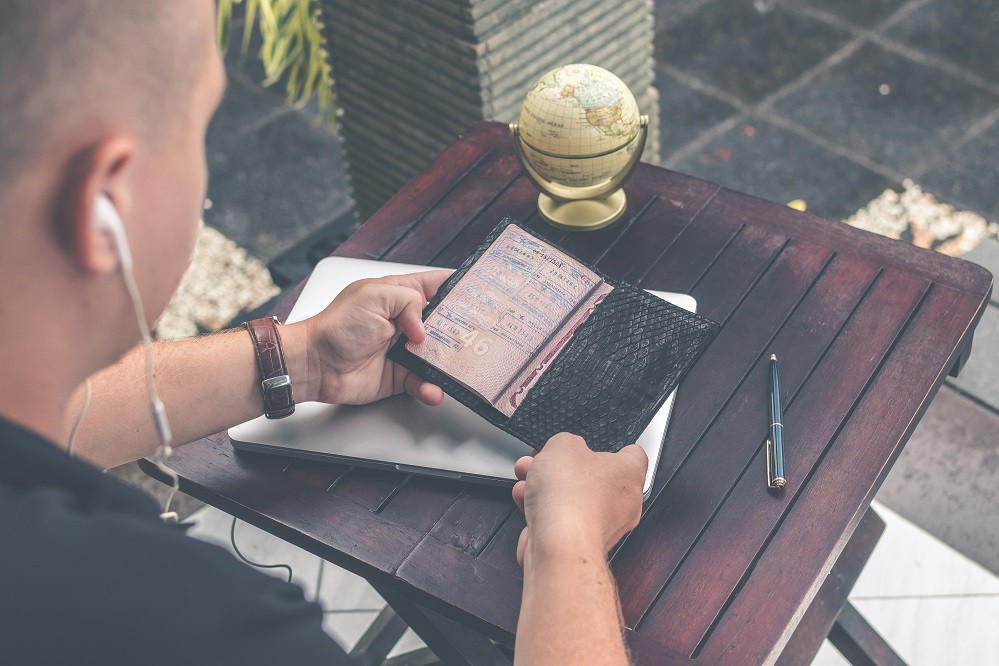 Travel Navigator Leather RFID Blocking Passport Holder and Wallet
Having some crook steal your personal data by scanning your cards or passport can be more stressful than someone stealing a physical object for lots of reasons. There is the potential financial loss, plus you have the hassle of having to obtain new bank cards or a new passport depending on which of them they have stolen. You also have the fear of not knowing what they might use the data for and might wait anxiously for several weeks when suddenly a bill in your name for something you never bought comes in the mail.
You can avoid all of that stress, and it is so easy to do. You simply keep all your cards, and your passport when you are using it, in an RFID blocking wallet. One of the most popular is the Travel Navigator Leather RFID Blocking Passport Holder and Wallet, and if you keep on reading, we'll explain why it will protect your data from those who would steal it from you
Travel Navigator Leather RFID Blocking Passport Holder and Wallet Review
Travel Navigator may not be the biggest producer of wallets in the world, but those that they do sell have very high ratings from customers. That certainly applies to this passport holder and wallet which has an astonishing 97% positive rating from those who have purchased it to date.
First released in 2016, its capacity for cards is good, its record in protecting RFID theft has impressed customers, and the durability has also been noted by many users too. Made from leather, it comes in a choice of two colors: black or brown.
Who is this product for?
The main group of people who will benefit from this RFID blocking wallet will be those who carry credit or debit cards with them at all times and wish to ensure that their cards cannot be compromised by data thieves scanning them. With the widespread use of contactless cards today almost every new card will have a readable chip in it, and that is what you will want to protect.
This wallet is also big enough to hold a passport so anyone who travels overseas will like this product as it can stop crooks gaining access to the personal data on their passport's chip. The fact that it allows you to carry your passport and cards together and protect all of them will also appeal to those who prefer to carry as few items as possible.
What's included?
Not much to report here, as when you open the packaging what you will have inside is 1 Travel Navigator Leather RFID Blocking Passport Holder/Wallet.
Overview of features
The feel of the soft leather which this RFID blocking is made from tells you immediately that it has a high level of quality before you even consider its other benefits. The leather will give it durability so that it lasts well, notwithstanding the fact that it comes with a lifetime guarantee from the manufacturer.
The capacity of this wallet is good with five compartments for cards and four larger compartments for money bills or documents, including your passport when you are traveling overseas. Regardless of which combination of items you have inside this wallet, everything will be protected from being scanned by data thieves thanks to the RFID blocking materials which are sewn into the interior.
Another type of protection is the clasp which keeps the wallet closed and stops your cards or money falling out, which could cause as equally as big a headache if you were to lose them as a result.
How to use it
One positive aspect of this RFID blocking wallet is its capacity which means you have plenty of slots to choose where to place items. On the right, there are the larger slots so these will be used for your passport on those occasions when you are traveling. When you do not need to carry your passport, these can be used to store paper money, small documents, or other ID cards that you may need to carry.
The left-hand side is where you will store your credit and other bank cards, and there are five slots for these which will hopefully be enough for most people. If not, there are two large additional slots behind. With these slots being larger, if you do not need them for an additional card, they are useful for placing boarding passes, folding money and receipts.
One last point with regards the leather which the wallet is made from is that it shouldn't need any regular cleaning. However, if it does get grubby and you want to clean it, the best advice is to use a small amount of leather cleaner to keep it feeling soft and supple.
Pros
Made from soft, quality leather
5 card slots
Additional slots for other documents
Secure closing clasp
Slim and lightweight
Cons
Lack of color choices
May not fit in some trouser pockets
Alternative
While the 5-card capacity of the Travel Navigator Leather RFID Blocking Passport Holder and Wallet is respectable, it may still not be enough for those of you have lots of cards and IDs that you need to carry with you. In that case, a great alternative will be the AurDo RFID Blocking Leather Passport Holder and Travel Wallet.
As well as the passport slot, it has 7-card slots, two pockets for receipts, an ID holder with a clear window for inspections, and a section for money bills. It is made from high-quality leather and has certified RFID blocking technology to protect all of the contents.
Conclusion
It is difficult to find fault with the Travel Navigator Leather RFID Blocking Passport Holder and Wallet, and that might be because it has a lot more positives than negatives. It has highly effective RFID blocking, it is made from quality leather, and it has a decent capacity, which is just about everything you would need.