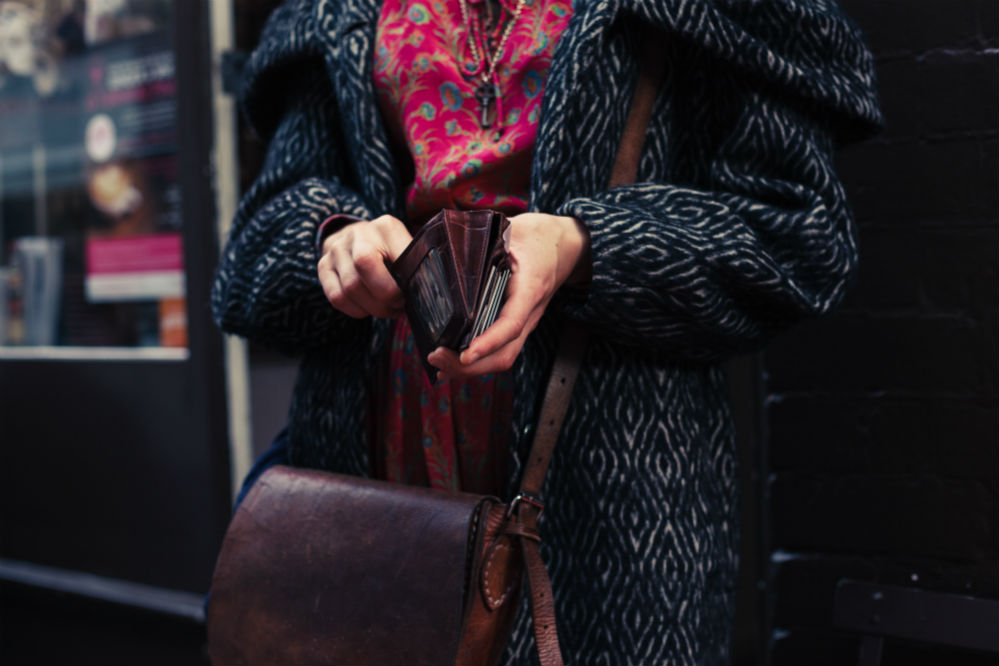 Huztencor Women's Leather Credit Card Wallet With RFID Blocking Review
Identity theft is one of those crimes that can be extremely stressful for anyone who is a victim and anything that can be done to prevent it from happening can help you avoid a lot of hassle and distress. One of the best ways to achieve this is to make sure that you keep all your credit and debit cards in a wallet or holder that has RFID blocking.
One such product is the Huztencor Women's Leather Credit Card Wallet With RFID Blocking which comes with the capacity to protect all of your cards, plus you can carry your cellphone in it too.
Huztencor Women's Leather Credit Card Wallet With RFID Blocking Review
When it comes to producing wallets and credit card holders, Hutzencor are certainly specialists, given that these are the only products which they sell. With the Huztencor Women's Leather Credit Card Wallet With RFID Blocking, they certainly have a winner which is evidenced by the fact that the vast majority of reviews from customers who have bought it are positive. This is all the more impressive when you consider it has just been on sale for over two years.
The product's specifications are that it weighs 7.8 ounces, with dimensions of 7.9 inches x 3.9 inches x 0.8 inches. There are no variations in terms of these, however, there is a choice of colors which include orange and pink if you really want your wallet to stand out from the crowd.
Who is this product for?
The target audience for this RFID blocking credit card wallet is females but, in all honesty, looking at the design of the wallet and some of the color choices, it is definitely suitable for male users too. While the pink and purple color options are certainly more suited to women, the black and dark blue are every bit as suited to men.
Regardless of which colors and whether they suit one gender or another, what is definitely true is that this wallet is suitable for anyone who wants lots of card storage and wants to protect them from unscrupulous thieves who would seek to steal the data from the RFID chips in those cards.
If you take the two previous paragraphs together there is also a case to be made for these being an ideal gift for a male or female relative, or both. So, if there are any couples you know who you think would benefit from having all their cards protected, here is a great gift idea for them.
What's included?
This isn't going to be a very large section as there is only one item which you will receive when your purchase is delivered and that is the credit card wallet.
Overview of features
This Huztencor credit wallet has been made from high-quality oil-wax leather which provides it with a high level of durability plus it makes it feel soft to the touch when holding it. The leather can come in any one of eleven different colors choices which range from plain and simple black, to bright pink.
The main function of the wallet is to protect those cards which have RFID chips, and it most certainly does that. The difference with this wallet compared to others is, instead of being able to protect just four or five cards, this has enough slots to protect up to 25 cards. It also has an ID window so that you can easily show your photo ID whenever you are asked to, without having to locate which slot it is in.
The wallet also has a zipped pocket section in the middle which can accommodate small and medium-sized smartphones, and it will also hold paper money, tickets and other small items such as coins.
How to use it
This RFID blocking credit card wallet basically has three parts to it, with two outer slot sections, and a middle section which is zipped which makes it into a pocket. With the outer parts, you simply fill the slots with debit cards, credit cards, store cards, fuel cards, etc. One side also has a slot for a photo ID which is useful if you ever need to present it.
The middle section can also be used for holding cards, but as it has a zipper all the way around what you are most likely to use this for is to hold items. This can include tickets, paper money, or a cellphone. Please note that not all cellphones are small enough to fit inside this middle pocket, so do not try to force it closed if yours is too big, otherwise, you may damage the zipper.
Pros
Capacity for 25 credit cards
Clear ID window
Large zipped pocket for additional items
Made from high-quality leather
Choice of colors
Cons
Can feel bulky when fully loaded
Too big to fit in normal sized pockets
Alternative
if you want an RFID blocking credit card holder with lots of card capacity, but do not want the bulkier center pocket, then an excellent alternative to this Huztencor wallet is the Yaluxe RFID Blocking Multi Card Organizer.
Made from durable leather, it has slots for up to 20 credit cards, but does not have the center pocket, so when folded closed it can be much thinner than the Huztencor wallet. It does have a zipped slot on the side which can be used for paper money, tickets or receipts, and if your cellphone is a certain size and depth, it can accommodate this too.
Conclusion
If you carry cards of all kinds including IDs, credit cards, your driving license, store cards et al, then you will love the Huztencor Women's Leather Credit Card Wallet With RFID Blocking due to its massive 25 card capacity. It also has a slot for an ID too. With all this, plus a zipped center pocket for a cellphone or folding money, it's easy to see why it is so highly rated by customers.